Celebrating Woolly Fashion and Community Spirit at the 185th Campbell Town Show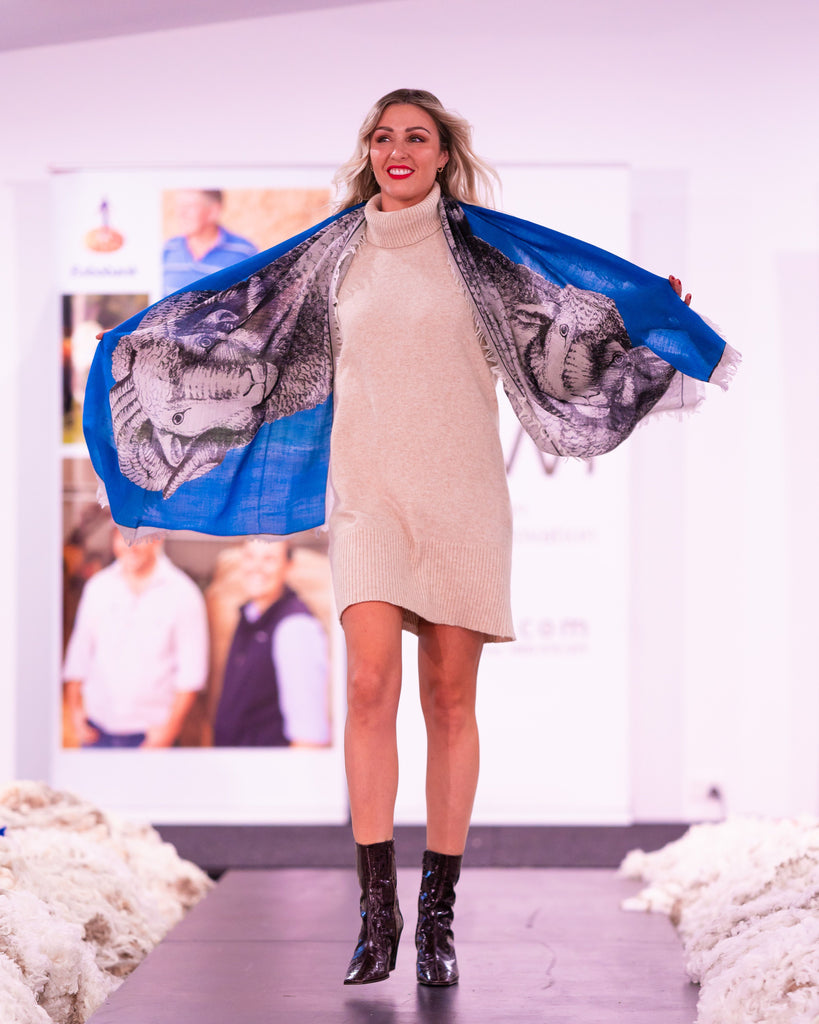 The small rural town of Campbell Town came alive with an air of excitement as it hosted its 185th annual show this weekend. This vibrant event brought together locals and visitors from far and wide to celebrate the rich traditions, talents, and community spirit that define our close-knit town. Among the many attractions, the highly anticipated fashion parade, sponsored by the Australian Wool Innovation (AWI), took centre stage. As a proud retailer of high-quality homewares, gifts, and fashion, we are always honoured to be involved in the fashion parade, showcasing a diverse range of clothing for women, men, children, and even our four-legged friends.
Celebrating Fashion Diversity:
The fashion parade at the Campbell Town Show was a true celebration of style and individuality. Models gracefully strutted down the runway, wearing outfits that reflected the latest trends, as well as timeless classics. With a focus on the hero of the day - wool, our store showcased an array of high-quality garments from various Australian Designers including Joey The Label, The Dreamer Label, Alessandra, Binny, Bow and Arrow, Didgeridoonas and Noss & Co.
For women, our collection embraced versatility and elegance. From sequin pantsuits to snuggly warm merino knitwear, our clothing range catered to diverse tastes and occasions. Men were not left behind, as some of our beloved local farmers displayed their dapper side with stylish knitwear and Australian oilskin accessories, taking over the catwalk and strutting their stuff to the hit song 'It's Raining Men'. This surprise performance was the highlight of the day for many of us, the novelty of watching so many local wool producers and hard working community members taking to the stage definitely hasn't worn off yet.
The little ones stole the show once again with their adorable outfits, reflecting both comfort, practicality and fashion-forward choices. The fashion parade also included our sweet little friend Rosie the miniature dachshund, sporting a very smart oilskin dog coat. The fashion parade truly was a display of fashion for the whole family!
Community Spirit and Local Support:
The 185th Campbell Town Show was not just about fashion; it was a testament to the remarkable community spirit that thrives within our rural Tasmanian town. The event brought together local businesses, artisans, farmers, and volunteers, creating a platform for them to showcase their talents and products.
As a retail store deeply rooted in the Campbell Town community, we were thrilled to be a part of this vibrant event. The show attracted a significant number of visitors to our town, providing an opportunity for us to share our passion for high-quality homewares, gifts, and fashion with a wider audience. It was heartwarming to witness the support and appreciation we received from both locals and visitors who called in to both of our stores during this bustling weekend.
Beyond the fashion parade, the Campbell Town Show boasted a wide range of attractions, including agricultural displays, livestock competitions, craft exhibitions, and exhilarating rides. It was a true testament to the diverse talents and interests that make Campbell Town a remarkable place to live and visit.
The Campbell Town Show illustrated the essence of rural charm, where tradition and progress coexist harmoniously. We look forward to the next chapter in the show's history and the opportunity to continue sharing our passion for high-quality products with the Campbell Town community. 
We would like to extend our heartfelt gratitude to Taylor Clyne-Smith, who expertly hosted the fashion parade. Taylor's infectious energy and passion for fashion added an extra layer of excitement to the event, making it an unforgettable experience for everyone involved.
A special thank you goes to AWI for their generous sponsorship of the fashion parade. We are grateful for their commitment to promoting sustainable and high-quality fashion with our favourite natural fibre - wool.
We would also like to express our sincere appreciation to the many dedicated volunteers who selflessly gave up their time to organise the show, both in the lead-up and during the event. Their tireless efforts behind the scenes ensured that everything ran smoothly and allowed the show to be the success that it was. 
Additionally, we want to extend a special thank you to the 14 volunteers who kindly assisted backstage during the fashion parade. Their patience and assistance in dressing the models were invaluable, ensuring that each outfit was flawlessly presented on the runway.
In conclusion, we are extremely grateful for the opportunity to participate in this memorable event and look forward to the continued celebration of style, community spirit, and rural pride in the years to come.
If you weren't able to make it or if you'd just like to relive the fun and fabulous event, please enjoy these photos taken at the event by the very clever Daimon Shelton of Picture Haus or follow us on instagram for more fantastic fashion parade content.